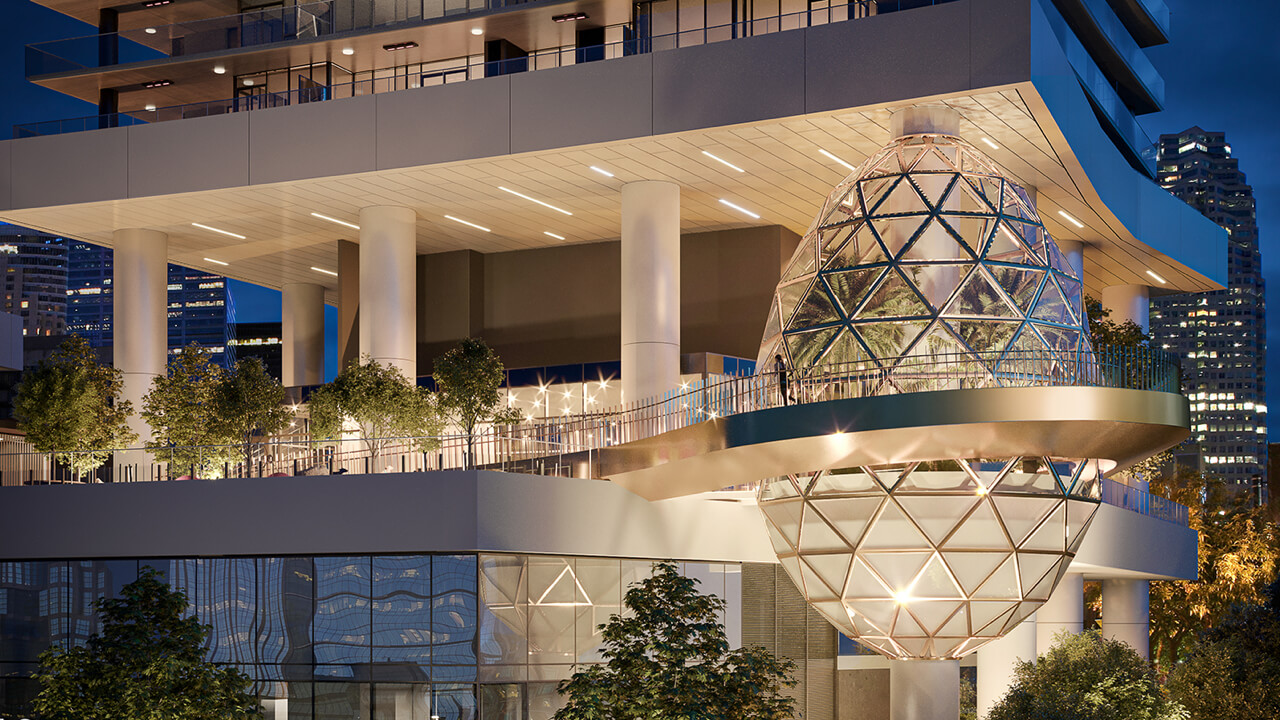 *Artist Concept of Preliminary Design
Redefine Metrotown Living
A Gallery of the World's Finest
Concord Metrotown is meticulously designed for a holistic and forward-thinking lifestyle. Featuring three well-balanced themes, Sky Park is a series of private gardens and outdoor activity spaces, totalling 66,000 sq. ft. with its 400m running loop and 6,000 sq. ft. of indoor amenities, catering to the physical and mental wellness of residents. Sky Park is a true urban oasis.
*Artist Concept of Preliminary Design
Indoor/Outdoor Fitness Centre
Conservatory
Outdoor Yoga Lawn
Ping Pong Zone
Indoor/Outdoor Fitness Centre
Dog Park
Pet Grooming Room
Tea House
Water Garden
Children's Playground
Barrel Sauna
Children's Water Park
Change Room
Outdoor Spa
Swimming Pool
Labyrinth Garden
L'Orangerie
Mini Golf
Outdoor Work Pods
400m Running Track
Entertainment Lounge
Co-working Space
Sky Park - Wellness Sphere
Inspired by Russia's illustrious jewelled Fabergé egg collection, an iconic Conservatory is the focal point of the Wellness Sphere. Its glass dome and greenery will usher in a sense of calm after a long day or allow you to enjoy a tranquil moment before starting your daily routine. Integrated fitness areas and a Yoga Lawn cater to physicality, while a pet-friendly area focuses on Fido's well-being.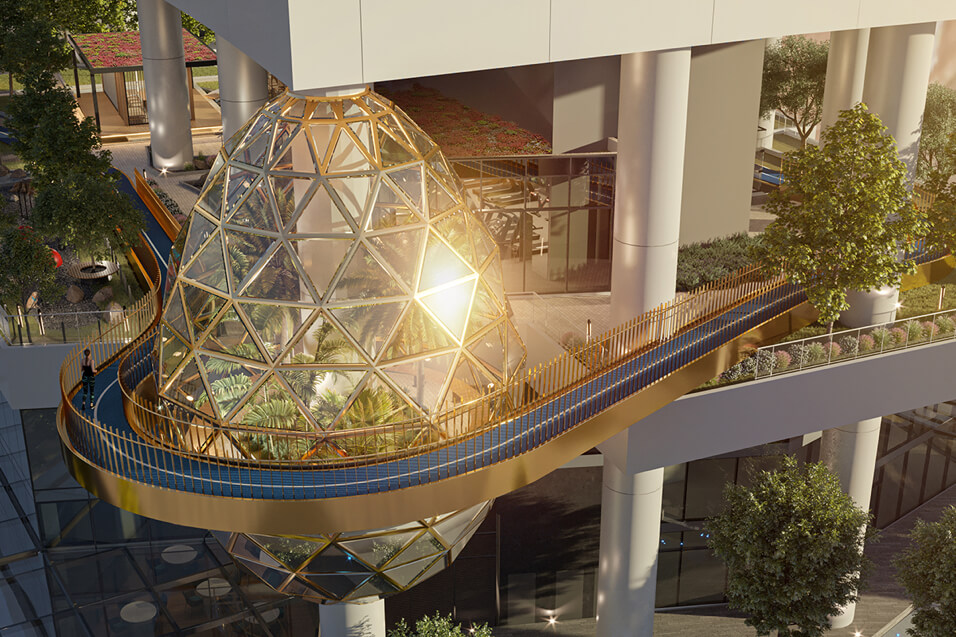 *Artist Concept of Preliminary Design
Conservatory & 400m Running Track
The Hydro Sphere's uniquely styled Barrel Saunas will instantly transport you to the Baltics, where the benefits of sauna bathing have been enjoyed for over 2,000 years. With its soothing heat, the sauna is an ideal way to relax after you finish laps around the spacious outdoor pool. Your little one will love getting wet in a children's water feature, designed especially for splashing.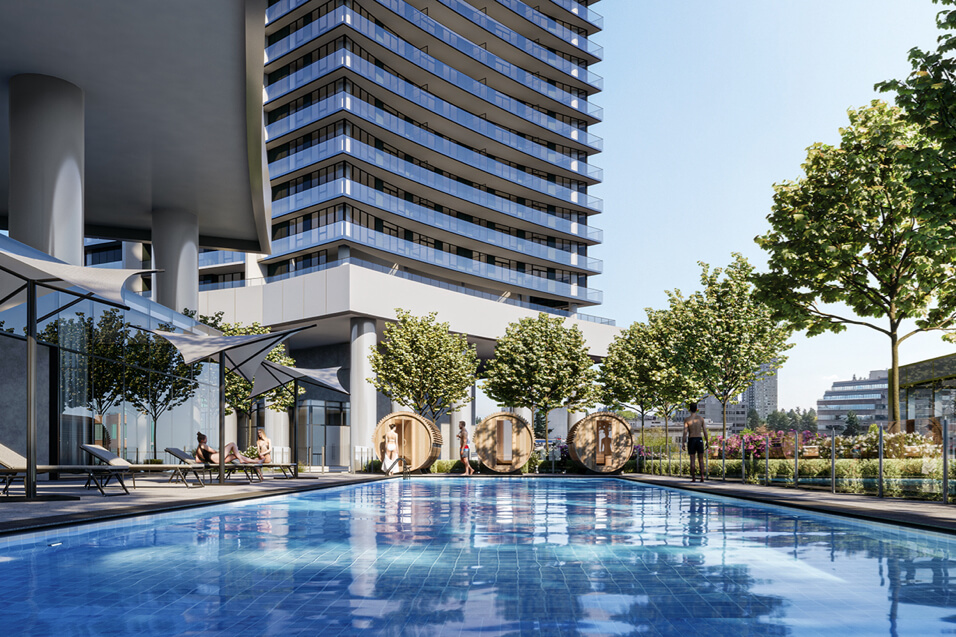 *Artist Concept of Preliminary Design
Swimming Pool
Meet your neighbours, collaborate with co-workers, and nurture your next brilliant idea in the Social Sphere's Co-working Space and Outdoor Work Pods. Stylish and functional, these professional spaces effectively separate your personal and professional lives — while still allowing you to forego the commute. After work, unwind by socializing in the Entertainment Lounge or enjoy solitude in the Orangerie.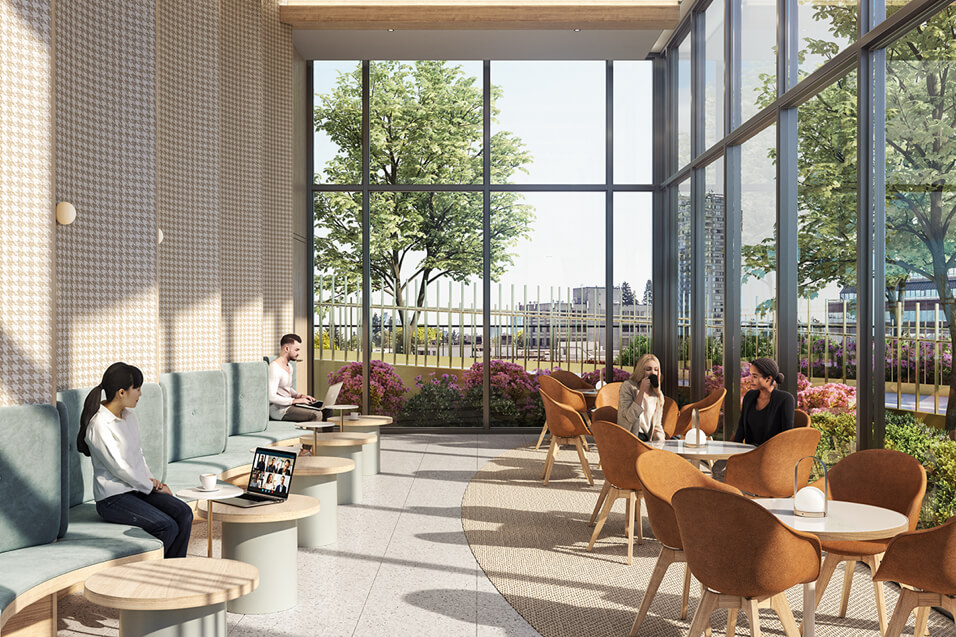 *Artist Concept of Preliminary Design
Co-working Space
Premium Organized Storage Solutions for a Clutter-free Life
Enjoy thoughtful storage solutions and a unique premium storage unit, a space which provides ultimate convenience and peace of mind while extending the usability of your home. Additionally, a specialized power outlet is provided here to charge e-bikes.
Where Urban and Outdoor Lifestyles Connect
Get your pedals going in Concord Metrotown's extensive bike facilities and its network of designated indoor and outdoor bike routes. Those who are fond of cycling will adore the gear room — a space to tinker with your bike. Go for a test ride after your tune-up around the indoor bike loop, or attempt a tour de France inside the virtual bike room, perfect for training on those rainy days.
*Artist Concept of Preliminary Design
Guest Suites
Locker Storages
Rest Seating Area
Virtual Bike Room
Gaming Lounge
Gear Room
Ready to hit the road and leave the car at home? The dedicated bike elevator gives you direct access to the ground level without struggling or saying "pardon me," to your neighbours.
With a direct connection to Burnaby's impressive network of urban bike trails, bikeways, shoulder bike lanes, and connectors, this is a convenient way to experience the city. The many local bike-accessible destinations elevate cycling from a form of exercise to an efficient mode of transportation.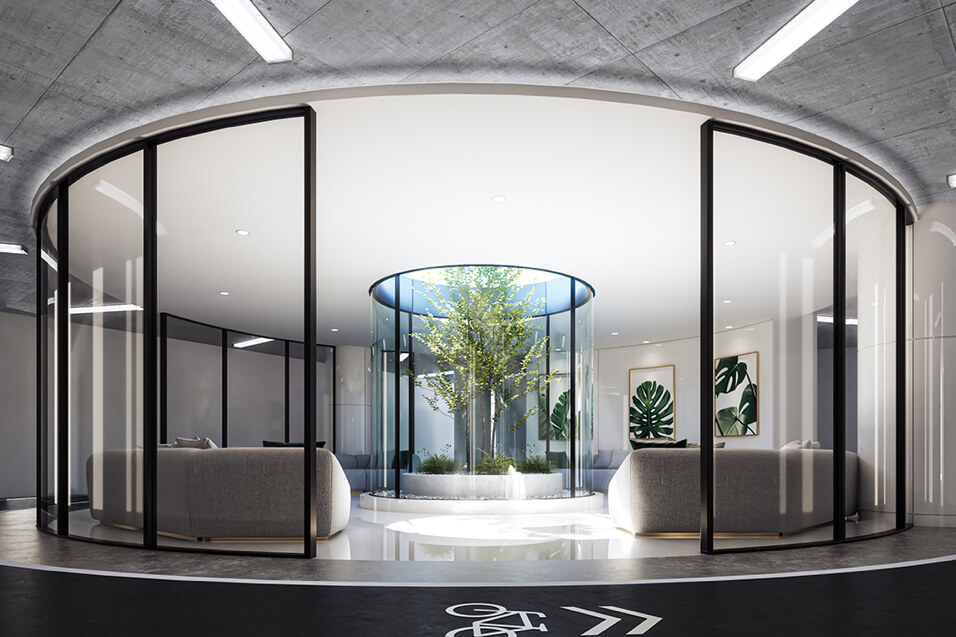 *Artist Concept of Preliminary Design
Seating Lounge